File Details

File Size
73.0 MB
License
Shareware, $39.99
Operating System
Windows 7/8/10/Vista/XP
Date Added
November 2, 2017
Total Downloads
16,913,072
Publisher
Malwarebytes Corp.
Homepage
Malwarebytes
Other Versions
Publisher's Description
Malwarebytes combines powerful new technologies built to seek out, destroy, and prevent malware infections.
Malwarebytes is an easy-to-use anti-malware application available in both a Free and Premium version. The Free version is well-known for its detection and removal capabilities, and the Premium version uses advanced protection technologies to proactively stop malware infections. Additionally, Malwarebytes offers a host of extra utilities as well as an approachable forum community to help you combat any piece of malware that exists in the wild.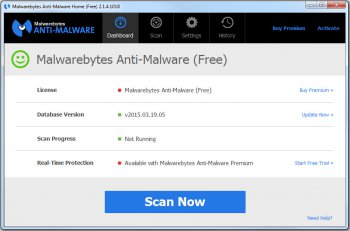 View Full-size
Latest Reviews
kstev99 reviewed v3.2.2.2018 on Aug 23, 2017
Gets better with every update. Sure, version 3 was a little sluggish at first, but it seems fairly light now, especially considering that it CAN replace your AV.

A little pricey if you are not grandfathered in on the lifetime updates as I was, but most of the top AV are comparatively priced. You cannot beat it's Malware detection and repair. I have used it for years and have fixed many infected computers with MBAM
Steve1209 reviewed v3.2.2.2018 on Aug 23, 2017
Another Version 3 update today. I haven't had any problems with the last 2 versions myself BUT why so many tries to get this working properly? I don't see many posts on the Malwarebytes forum today about people having problems with this new version. Thankfully I bought a lifetime license when they were available, otherwise I may have moved on to another more reliable released product!
Music4Ever reviewed v3.1.2.1733 on May 11, 2017
Yet another update, still fixing bugs that should have been sorted before the final was released, as I remember last August? The original team who worked on version 3 ought to consider different employment, not nice to say but probably true. Malwarebytes reputation has been flushed by themselves down the toilet.

Read the ongoing issues on their forum. Being kind with three stars, fact that Mbam is no longer a permanent protection on any of my units says it all.

A possible reason for the ongoing problems is that the software engineers at Mbam are incapable of doing the job they are employed to do, trying their best maybe but best but fail - Happens with plumbers, joiners, mechanics too.

With this update I still get web protection not being on when starting the program, not really a problem anymore as Zemana does what Mbam used to do (doh) Not going to review his program again as I now rarely use it.

@DKDude - Agree totally.
Steve1209 reviewed v3.1.2.1733 on May 10, 2017
Malwarebytes is a GOOD program, the problem I see right now is the V3 team keeps putting out Beta like versions that are NOT ready for prime time, they are NOT doing a good job of testing and keep asking end users for logs to help them resolve issues, I have a lifetime license but people using yearly licenses I'm sure as pissed off with what Malwarebytes is doing...
Picasso reviewed v3.1.2.1733 on May 10, 2017
This program used to be good but has become a bloated nightmare :(
CyberDoc999 reviewed v3.0.6.1469-10103 CU4.1 on Apr 18, 2017
super bad .... worse than a real virus
a shadow of what is was in the past!
DKDude reviewed v3.0.6.1469-10103 CU4.1 on Apr 18, 2017
Go to the forum before you decide to throw $39.99 a year after this.
https://forums.malwareby...orum/41-malwarebytes-30/

I'm a longtime big fan of Malwarebytes, have premium on all my computers, but this V3 has to be the worst they ever made.

It had bugs to begin with, then they managed to minimize them, but now it's a big pile of crap.

So many issues, you would think they have fired the developers and hired a bunch of monkeys for the job.

$39.99 a year to betatest a broken mess, go find a better and working solution.

One of my license is a lifetime license, I'll keep that to see if they ever get this mess fixed, the other 3 is bought after they ended their lifetime plan, they will not be renewed, I'm done, time to find a better solution.
Music4Ever reviewed v3.0.6.1469 on Jan 26, 2017
Most issues resolved now, & it seems issues on both my home PC's are sorted. It has taken a month & a half though from initial final to do this. Several on the main forum complaining about high CPU use on manual scanning though seems it's intentional, I suspect an option to change the priority with be forthcoming.

Good anti-malware program though whether it is a replacement to running a standard AV along with it is up to the user, I still do.

'Fixed issue where 'Real-Time Protection turned off' notifications would display incorrectly on initial startup' - That's because it was :-)
CyberDoc999 reviewed v3.0.5.1299 on Dec 24, 2016
I went back to the 2.7 version it has no bloatware
I only use the scanner
Music4Ever reviewed v3.0.5.1299 on Dec 20, 2016
Still have issue mentioned in changelog above '- Fixed issue where "Real-Time Protection disabled" notifications would display throughout the day (NOTE: this notification may still be seen on reboot on some systems, but we're working on another longer-term fix to address that separately' (I'm so very happy) This was reported on first beta BTW DKDude.

Seems its mainly with fast SSD's & many others have the same problem along with other unsolved problems, should have stayed in beta longer - Been a fan of this program for many, many years but what idiot thought the version before this was a final?

Solve the bloody problems in beta next time.