File Details

File Size
16.7 MB
License
Freeware
Operating System
Windows 7/8/10/Vista/XP
Date Added
September 26, 2017
Total Downloads
7,991
Publisher
IObit.Com
Homepage
IObit Driver Booster
Publisher's Description
IObit Driver Booster is a driver updating tool to protect your PC from hardware failures, conflicts, and resolves system crash problems caused by outdated drivers. All old drivers can be detected by simply clicking on the Scan" button, and then you just need to click "Update All" button to refresh these outdated drivers. Compared with other driver updating tools, IObit Driver Booster can improve your PC performance for gaming as well.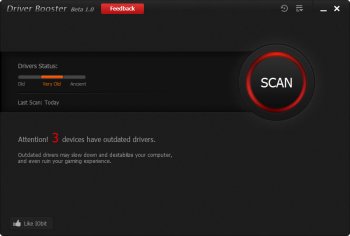 View Full-size
Latest Reviews
some guy reviewed v3.5.0 on Jul 26, 2016
fantastic best in its class, also slimdrivers is good to but uncheck box to not install the bloat
Lsavagejt reviewed v3.0.3.0 on Sep 25, 2015
I like this product. There's nothing I don't like about it.
dcarter reviewed v3.0.0.251 Beta 1 on Jul 4, 2015
Looks great and retrieves driver info quickly and then.....nothing! you can wait a month for it to update drivers (4 in my case) and this is true of pro version 2 which i bought. I could never recommend til they fix the update proceedure.PS i have a 150up/down conection.
mfarmilo reviewed v2.2.0.160 on Mar 23, 2015
Good program if you ensure it doesn't install any 'extras'.

Using the Fileforum download link provides 2.1.2.0 btw (older in fact than what I already had), not the version listed.
some guy reviewed v2.1.2.0 on Jan 7, 2015
IObit Driver Booster 2.1.2.0 version now has a capp on the download rate unless you buy the pro version, basically the free ware version now sucks !
Slimdrivers is free and works well
http://www.driverupdate....s/SlimDrivers-setup.exe
Music4Ever reviewed v2.1.0.160 on Dec 18, 2014
No problems with the program - Though IMO if your recent PC is running well updating drivers unless you are a gamer can cause more problems than it solves, if in doubt leave well alone as most updates come along with a share of new bugs. Updating drivers is an overrated pastime :-)
CyberDoc999 reviewed v2.1.0.160 on Dec 17, 2014
how is it going to protect your PC from hardware failures????????
reddy.shyam reviewed v2.0 Beta 2.0 on Sep 8, 2014
I love it! The new interface is great and this program has kept me upto date for more than a year now without any side effects. Thanks to the team.
inkowyouknow reviewed v2.0 Beta 2.0 on Sep 7, 2014
Installed it and it found various updates, run them rebooted and system would not start (test rig) so had to do system restore. This is not ready for prime time be careful with it
KNRover reviewed v1.2.0 on Mar 3, 2014
I installed Driver Booster (DB) on my two (relatively new Win 7) computers about 2 weeks ago, and have done 2 scans on each computer that resulted in a total of about 30 (!) updates. The updates did not cause any system problems.

However, 2 days ago, I installed it on my wife's VERY OLD Compaq R3275 laptop running Xp-SP3 and ran a scan. It updated 3 drivers. After rebooting, it seemed to be running fine, but today my wife tried to open a link in an e-mail, and it caused Windows to freeze (absolutely nothing worked except Task Manager, which I used to restart). Tried opening Outlook Express and again tried the link. Froze the system again. After restarting, ran a system restore using the restore point created by Driver Booster. Computer now works, no freezes on that or any other links.

The problem appears to have been an ATI driver, because when the system would boot, it would automatically open an Explorer window with a "CIM" folder in it containing files for the ATI graphics card. It no longer does that. The point here is that like most generic driver updaters, this one can cause system problems by updating drivers that are not compatible with your computer. In recognition of that fact, DB ALWAYS creates a restore point, which allows you to undo it's mistake. But you have to hope that the errant driver(s) do not render the system unbootable, making it difficult to access system restore.

Despite this glitch, the program is extremely efficient and from my experience, probably accurate with CONTEMPORARY machines. If you have a really old XP machine, be careful.